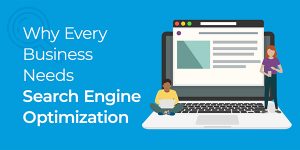 Think about what you do when you need a plumber to go to your house. Unless you have one in your family or living next door, you're most likely going to pull out your phone or hop on your computer and search for plumbers in your area.
After looking at a few of the top options and maybe their Google or Facebook reviews, you'll most likely call or email to set up service. That happens millions of times per day all over the world. But it's not just home service companies that benefit from SEO. When people are ready to buy something or want to research a product or service, they go to Google and search for it. A business's online presence is crucial because if prospective customers can't find them, they'll instead go to a competitor.
It's crucial for every business to compete for the top relevant Google searches. And it doesn't matter if the business is a local shop or a national corporation. Businesses need to be found when people search for their particular service or product. This is where SEO comes in, and specifically SEO for small local businesses. Many small businesses wrongly feel like they can't afford SEO. Others simply have a hard time understanding what it is and how it works. In the past, the solutions in the marketplace seem vague and it was difficult to define what services the business would receive.

Today SEO is much more defined, some would say even more transparent.  Local advertisers now receive monthly reports that explain exactly what they are paying for and how certain keywords are performing.  So, no more guess work.  Virtually every business needs SEO services to gain a competitive advantage in a crowded marketplace.  Now it's easier than ever before to get started.
To learn more about SEO and receive your FREE Digital Assessment contact us today.