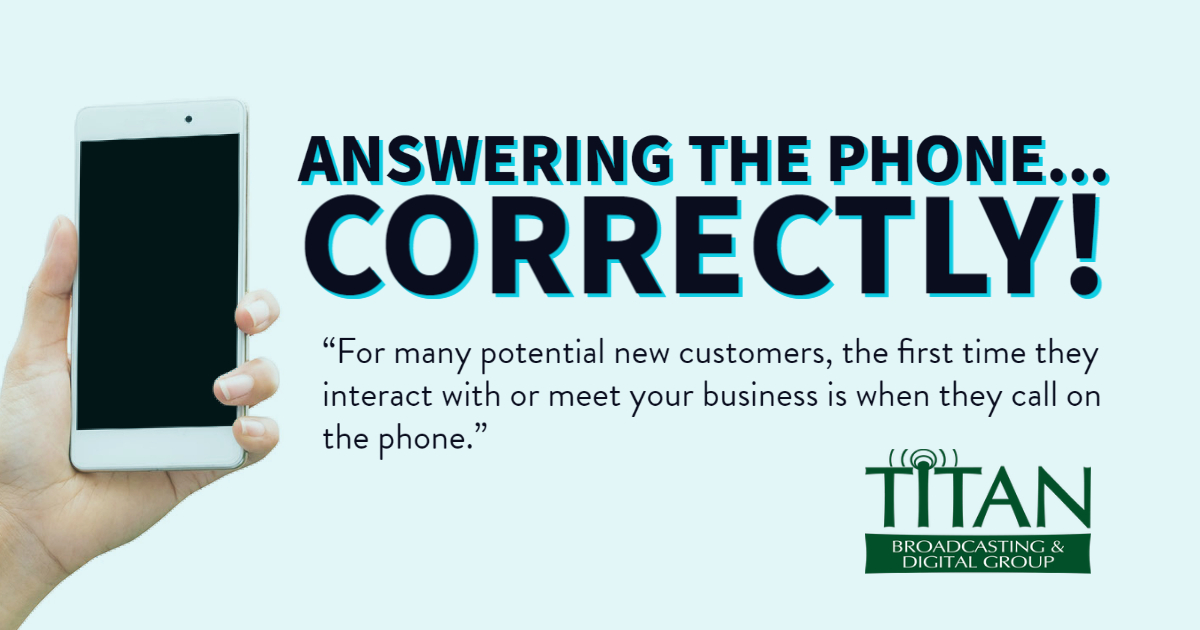 Wait, there's a right and wrong way to answer the phone? The answer is yes. Most businesses have never suggested to their employees how to answer the phones, let alone have a policy. But yet, how your phones are answered says a lot about a company. Last week we spoke about how a little thing like picking up a toothpick lying on the floor can speak volumes about your business. This week, little but BIG thing #2 is answering the phone correctly.
For many potential new customers, the first time they interact with or meet your business is when they call on the phone.
The entire process of answering company phones, from how quickly you answer to how you conclude the call and what is said in between, either with a live person or a voice-recording, can determine whether potential customers choose to do business with you… or not!
Far too many businesses take answering the phone for granted. After all, what is so hard about answering the phone? However, having a set policy and procedure for answering the phone not only ensures the phone is answered the way you want it to be, but it also implies to ALL employees that you are a professional organization in ALL areas of your company.
With today's business climate of limited and multi-tasking staff, there is often little time to answer the phones appropriately. In this case, a professional voicemail should be used in place of a live voice.  Just because a customer is unable to reach you does not mean they cannot be greeted with a message and feeling that creates a positive impression.
Remember that when someone calls your business, they are not calling to just chat. They want something, and it's typically an answer to a question. In the 15 Rules to Phone Call Etiquette, Rule #6 is, "On-Hold Permission and Thank You".  Before placing a person on hold, first, ask their permission to do so, don't tell them. Also, get their phone number in case the call is cut off for any reason. Upon returning to the call, show respect for their time by thanking them for holding!
Having a policy and set procedure on how you expect your phones to be answered is a small but important part of operating a professional business.
"Little Things" do mean a lot!
15 Rules to Phone Call Etiquette
Yes, little things do mean a lot, and how you answer your phones and utilize company voicemail or on-hold messaging can make a HUGE difference in how your prospects and customers perceive you, your employees, and your company.
These 15 rules may seem obvious, but having consistent, professional policies and procedures will ensure that your customers and prospects are greeted politely and professionally and that your business is presented in the manner that you want it to be.
Rule #1: Answer on Second or Third Ring:  The first ring is too quick as it surprises the caller. Ring #4 or beyond is too slow. The second or third ring is ideal for answering.  Have fun with your employees in charge of answering the phones; tell them, "if the phone rings three times, someone better be jumping over a desk before it rings a fourth time".  This goes for both in-person and voicemail.
Rule #2:  Proper Sequence and Greeting:  Answer with a consistent positive greeting. "Good morning/afternoon/evening, (name of company), (name of the person answering), How may I help you?"  Everyone in the company should answer the phone with the same greeting.
Rule #3:  Smile and Articulate: Seems obvious doesn't it, but how many times have you called a business and the person answering sounded unhappy, unenergized, and unhelpful? People can hear and feel a smile. Simply put, speaking with a smile will put an energetic and cheerful tone in your greeting.
Rule #4: Proper Pace and Tone:  Some people speak too slow, others too fast. Some too soft and some too loud. You want the perfect pace and tone. Making those that answer the phones aware of this will provide you with a much more effective and pleasant greeting.
Rule #5:  Take Notes:  Don't assume you will remember to pass along the message to the proper person(s). Even if you have voicemail capabilities, offer to take a message. It's expected that you ask for the person's name and phone number; it's polite to ask if they want to leave the name of their company and their reason for calling. Remember, it's about the caller/customer, not your company.
Rule #6:  On-Hold Permission and Thank You:  Before placing a person on hold, first ask their permission to do so. Also, get their phone number in case the call is cut off for any reason. Upon returning to the call, show respect for their time by thanking them for holding!
Rule #7:  Transferring a Call:  The best practice is to make sure the person you are transferring the call to is actually in. DO NOT simply transfer them if you do not know. Tell the caller you will check to see if they are in and ask them if it's o.k. to send them to voicemail, or ask if there is someone else that could help them. Keep in mind, they called asking to talk to a particular person; they did not necessarily want to leave a message.
Rule #8:  On-Hold Messaging/Greetings:  If you have an on-hold messaging system: #1. Keep the message(s) short, 6-10 seconds. #2. Use multiple messages relating to different topics or for different times of the day. There is no limit to the number of individual messages. Short and sweet is the rule.
Rule #9:  On-Hold Messaging – Specials:  If you are offering special pricing or services, include them in your messaging, i.e. "Ask about our pre-summer tune-up special".
Rule #10:  On-Hold – Maximum Length:  Never leave a caller on hold for more than 45-seconds without readdressing the caller. If the hold is going to be longer, ask them if they would like to leave a message.
Rule #11:  Make a Promise and Keep It:  State the maximum time that the call will be returned within. Be specific. If you or the person they are seeking is out for the day, tell them their call will be returned by X-time tomorrow.  Error on the side of too long rather than too short. If you say they will call back in two hours, the call needs to be returned within two hours. Always ask if there is someone else that can help them or direct them to another person.
Rule #12:  Update Voicemail and Greetings:  Individual voicemail and company on-hold greetings should be updated regularly. Not updating your message is a sign that their calls are not important. Use the time of year or popular events to make the messages sound fresh.
Rule #13:  Never Say "I don't know": Instead say, "Let me check into that for you".
Rule #14:  Branding Statement:  If you have a short "Slogan" or "Branding Statement", you can include this in your initial greeting, i.e. "Good morning, Clean Plumbing and Heating, 'Home of the Free Inspection', this is Jodi, how may I help you?"  If the slogan is too long, don't include it.
Rule #15:  Ending the Call: The call should always end with a "polite positive", i.e. "We appreciate you calling. Have a GREAT day!"
At Titan Broadcasting and Digital Group, we believe our responsive, on-going communication with our clients is one of the biggest reasons why our partnerships are so successful. Whenever you need us, we'll be there by your side to answer your questions and help your business grow in any way we can! www.titanburlington.com/contact-us/