Titan Employee Spotlight: Amy Burkhart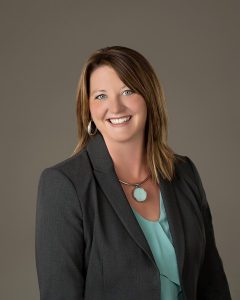 Hometown: 
I was born and raised in West Burlington, the daughter of two self-employed business owners. My dad, Rod Crowner, is an auctioneer and managed Auction Barn Inc. My mom, Sheila Crowner, is a real estate broker/owner of Re/Max Real Estate Specialists.
 How long have you been with Titan Broadcasting and Digital Group? 
I started with Titan Broadcasting and Digital Group in 2016 after 15 years working in healthcare marketing. I have a degree in Marketing and Communications from the University of Iowa (Go Hawks!) I worked in marketing for Gateway Computers, Bangert Computer Systems and then as the Community Relations Director of Fort Madison Community Hospital and the Community Liaison for Great River Home Health and Hospice before coming to Titan.
 A little bit about your family: 
My husband, Jeff Burkhart, is the Regional President of MidWestOne Bank. Our two children, Sage and Kale, are following in their mother's footsteps attending West Burlington Schools. (Go Falcons!)
 What is a typical day like for you at Titan Broadcasting and Digital Group? 
There really is no typical day. My day is shaped by the needs of my clients. I may be found having meetings in local businesses learning about the products, services, or events they need to promote and helping them devise a strategy to do so. Or I may be found in my office in River Park Place writing creative copy for my clients' radio commercials or online marketing initiatives.
What is your favorite part of your job?
It is so fun to hear when something works! I enjoy when my clients call or email to say things like…
The ad has only been running a few days and we already had someone call in and reference the special we were offering.
We've tried so many things to try to get applicants for our open positions and with this ad campaign we filled almost all of our open positions finally.
We increased the attendance at our event by 10% this year.
These are all actual examples of client feedback, and I have many more. It's a great feeling knowing you are helping people be successful!
 What community organizations/events do you volunteer for?
I am currently on the Executive Board of the Burlington Bees' Baseball Association serving as Secretary. I am Past President of Burlington Steamboat Days and continue to serve on that committee as well as the Board of Directors for Burlington Riverfront Entertainment. I am one of the founding members, and current President, of the West Burlington High School Alumni Association. I am also a member of the West Burlington Fine Arts Boosters.  I am a graduate of the Greater Burlington Leadership class and currently serve on the Leadership program's steering committee. I am a past board member of the Burlington/West Burlington Chamber of Commerce and continue to serve on the Chamber's Ambassador Committee. I also volunteer with my church, First Christian Church of Burlington, and the Hetta Gilbert organization.
What do you enjoy most about Southeast Iowa?
This is home. Long ago I decided to follow the popular saying "Bloom Where You're Planted" and grow my life in my home area. I feel very fortunate to be able to live, work, play in and serve my home communities!
What is something different about you most people may not know?
I was Miss Burlington 1996. As Miss Burlington I spent the year performing community service projects related to my platform issue, "Give 5 for the Earth", an environmental awareness initiative. It felt like life had come full circle when I got to start working through my job at Titan with Area Recyclers to help them promote their services and projects!