The foundation of your house provides solid support for your home to withstand life. It anchors the walls, it holds up your roof. That's pretty significant!
Think of your digital presence like that house. And your website is its solid foundation that the rest of your digital existence is built on.   Now a days, Ninety Seven Percent of consumers go online to find and research local business and three-quarters of those consumers admit to making judgements about your credibility based on their findings.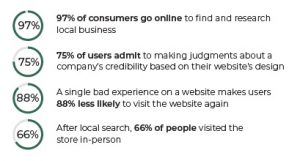 Your website is single handedly the most important reflection of you online.  So how does your website measure up in the digital world?
Did you know Titan Broadcasting & Digital Group now offers website development? We develop Custom Responsive Websites with an easy-to-use Content Management System (CMS), strong Search Engine Optimization to increase your site traffic, as well as custom forms and strong calls to action help generate new leads.
Contact us for a FREE digital marketing assessment including your website, social media, and how well you're found online.  Let us at Titan Broadcasting and Digital Group help you represent your business, your passion, and your legacy in the digital marketplace.